Endless romance AWAITS!
We want to make sure you fall in love with your destination wedding location and the resort that matches your vision for your perfect destination wedding package!
We understand those extraordinary moments, the ones that truly take your breath away, the ones that stay with you forever. Whether it's the first time you see one another as you walk down the aisle, or the view from the beach where you celebrate that special anniversary or renew your vows.
All Inclusive Weddings assists in making those stunning experiences, creating lifelong memories for you to love and cherish. We are honored to be a part of your celebration because you deserve an experience as amazing and unique as your love.
WHAT MAKES THE PERFECT DESTINATION?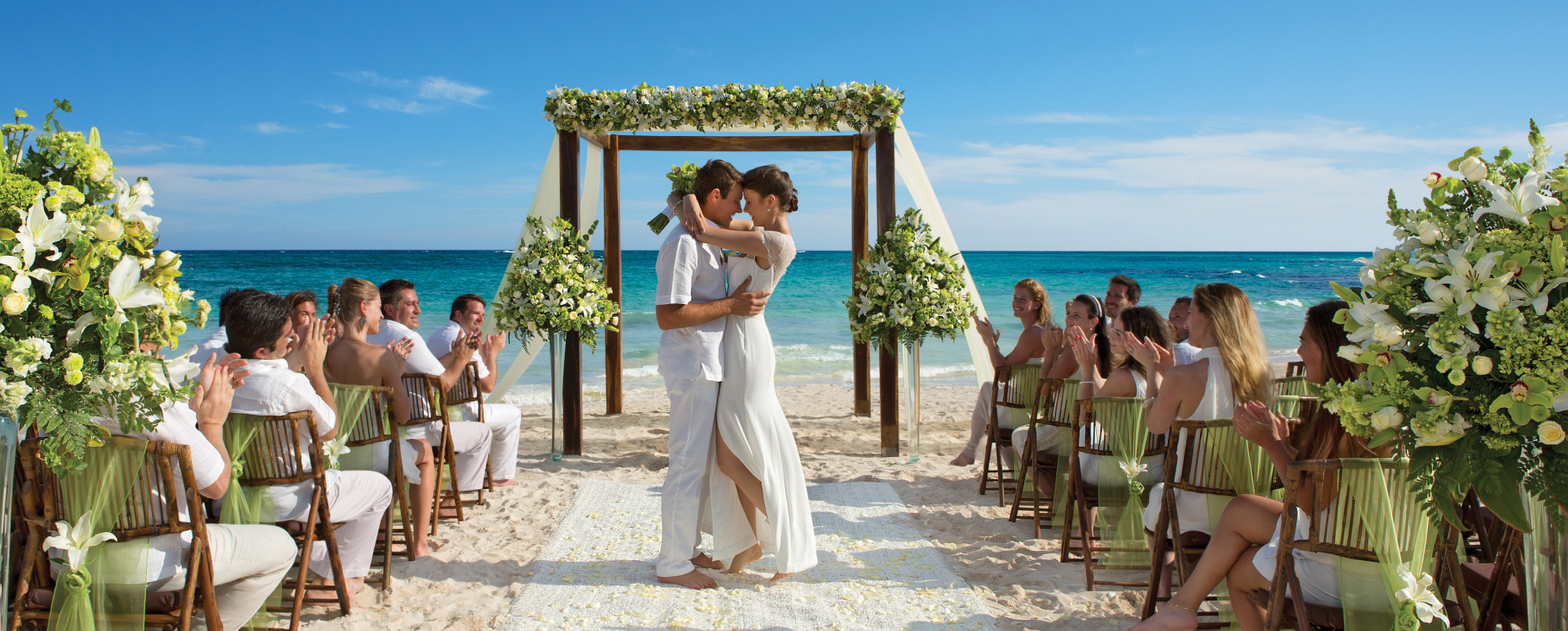 Selecting your destination is the first step in planning a trip to celebrate your romantic milestone. You want a location that sets the tone for your special occasion and represents the love you have for one another. If your celebration includes more than just the two of you, also consider a place your guests will cherish – loaded with all-inclusive luxury and exciting activities.
DESTINATION DECISION MAKERS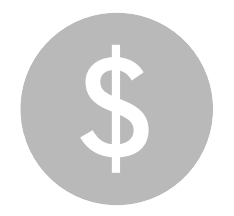 BUDGET: No need to break the bank. Determine what you are willing to spend. We will work with you and your chosen destination resort to create a one-of-a-kind experience within your budget.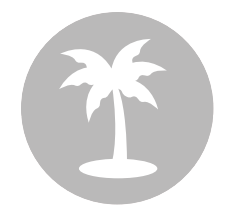 BACKDROP: It doesn't have to be a fantasy! Visualize your dream location and choose a destination that meets your unique criteria.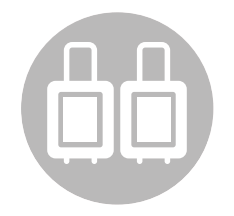 STYLE: Beach breezy? Nature lovers? History buffs? Define your style as a couple and select a complementary destination.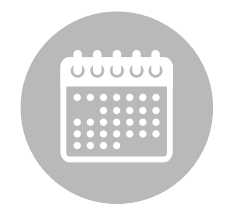 SEASONALITY: Are you celebrating a certain date? Is there flexibility? Some destinations have great promotions during low seasons.
Viva MÉXICO!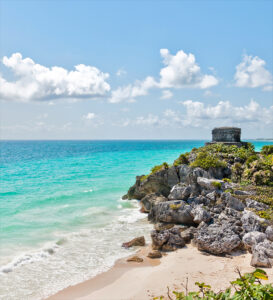 EAST COAST
The eastern coast of Mexico bordering the Caribbean Sea is home to the popular resort destinations of Cancun, Riviera Maya and the island of Cozumel. This region on the Yucatan Peninsula offers some of the best and most romantic beaches in the country, championship-caliber golf courses and an incredible mix of ancient Mayan and traditional Mexican culture — it's a place every couple will want to experience.
TIME ZONE:
Eastern Std. Time (GMT-5)
KNOWN FOR:
Snorkeling, Cenotes, and Mayan Culture
POPULAR LOCATIONS:
Cancun, Cozumel, Riviera Maya, Tulum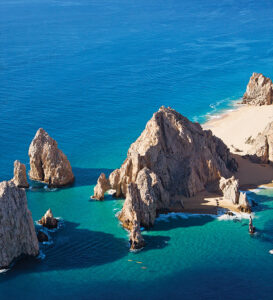 PACIFIC COAST
The sparkling sapphire sea, majestic mountains and cactus-dotted desert landscapes make the Mexican Pacific Coast one of the most beautiful destinations. Luxury resorts, top-notch Mexican cuisine, world-class golf, exciting nightlife and adventures in nature are just a few of the many reasons to celebrate your special occasion here.
TIME ZONE:
Mountain Std. Time (GMT-7)
KNOWN FOR:
Golf, Scuba Diving, Whale Watching and Sport Fishing
POPULAR LOCATIONS:
Huatulco, Los Cabos, Nuevo Vallarta, Puerto Vallarta, Riviera Nayarit
Discover THE CARIBBEAN
ST. MARTIN
This elegant island shares the cultures of two countries. To the south is the Dutch side, with its cosmopolitan capital of Philipsburg, duty-free shops, glitzy casinos and nightspots. To the north is the French side with its chic boutiques, cafés and amazing views. Couples can discover it all and each other in St. Martin.
TIME ZONE:
Atlantic Standard Time (GMT-4)
KNOWN FOR:
Festive Nightlife, French Cuisine and Outdoor Markets
POPULAR LOCATIONS:
Anse Marcel, Maho Beach, Orient Bay, Phillipsburg, Simpson Bay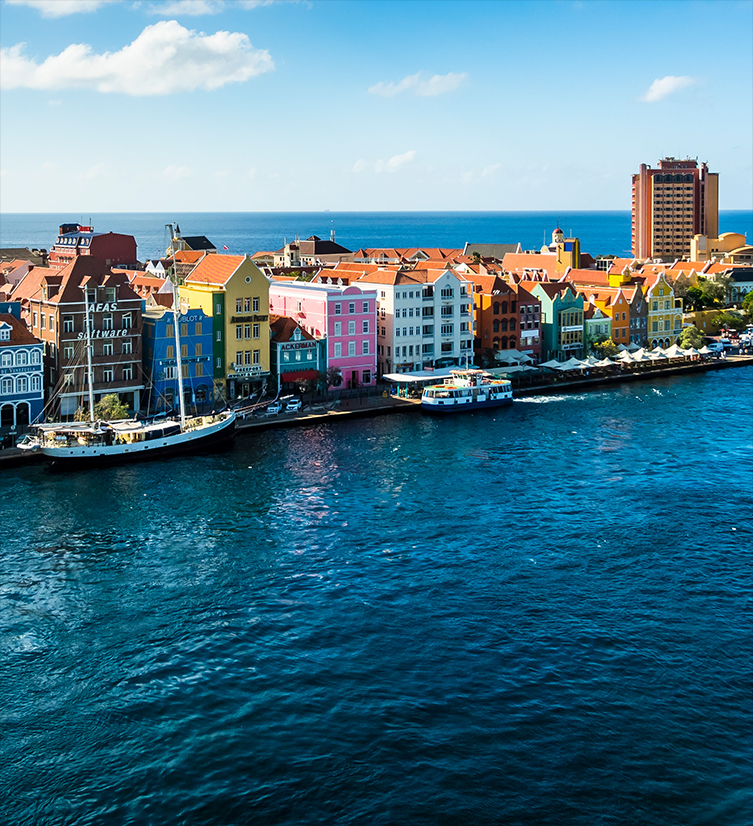 CURAÇAO
Slip away to Curaçao, a Caribbean paradise that thrills and inspires. From delicious local eats and exciting outdoor excursions to a wealth of cultural gems throughout the area, this destination appeals to everyone on your guest list.
TIME ZONE:
Atlantic Standard Time (GMT-4)
KNOWN FOR:
Colorful Skyline, Island Cuisine, Diving and Dutch Influence
POPULAR LOCATIONS:
East End, Jan Thiel, Pietermaai Smal, Westpunt, Willemstad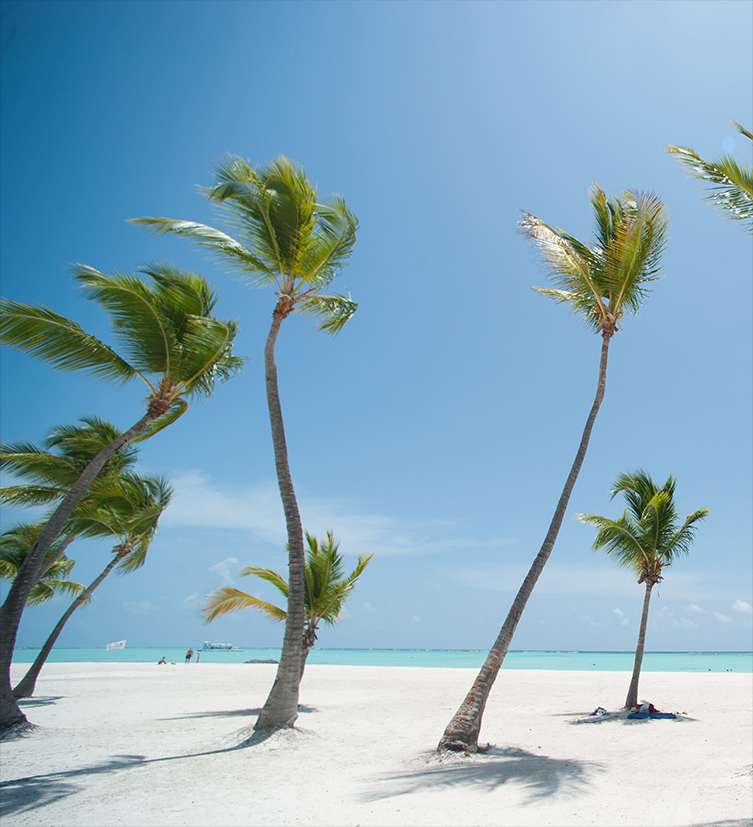 Dive into the DOMINICAN REPUBLIC
The Dominican Republic has picture-perfect beaches and every kind of activity and entertainment imaginable. From a catamaran to Soana Island, to the rich history and heritage at Santo Domingo's Zona Colonial, couples find the perfect backdrop for their special occasion in the Caribbean region.
TIME ZONE:
Atlantic Standard Time (GMT-4)
KNOWN FOR:
White Sand Beaches and Merengue
POPULAR LOCATIONS:
Cap Cana, La Romana, Macao Beach, Puerto Plata, Punta Cana, Uvero Alto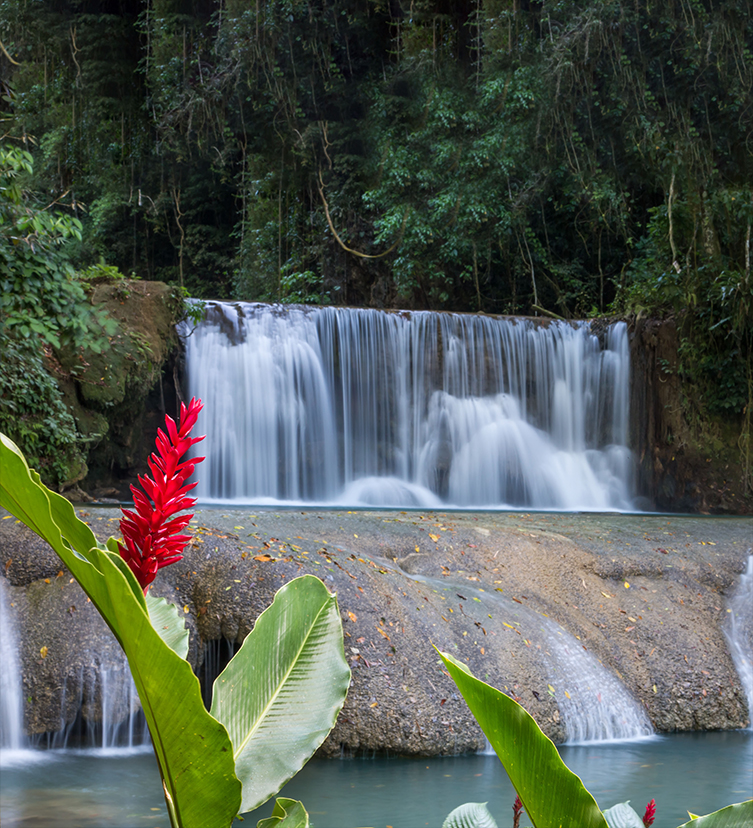 Experience JAMAICA
Beyond the sand, Jamaica has soul-stirring beauty with lush forest along misty mountain peaks and hidden waterfalls. A fusion of smoky, fresh and tropical island flavors await your discovery. Couples find themselves swaying to the soothing, rhythmic music the country is famous for. Friendly smiles and open arms welcome you under the warm island sun. Jamaica is a treat for all the senses.
TIME ZONE:
Eastern Standard Time (GMT-5)
KNOWN FOR:
Reggae, Rich Culture and White Sand Beaches
POPULAR LOCATIONS:
Kingston, Montego Bay, Negril, Ocho Rios, Port Antonio
Adventure in CENTRAL AMERICA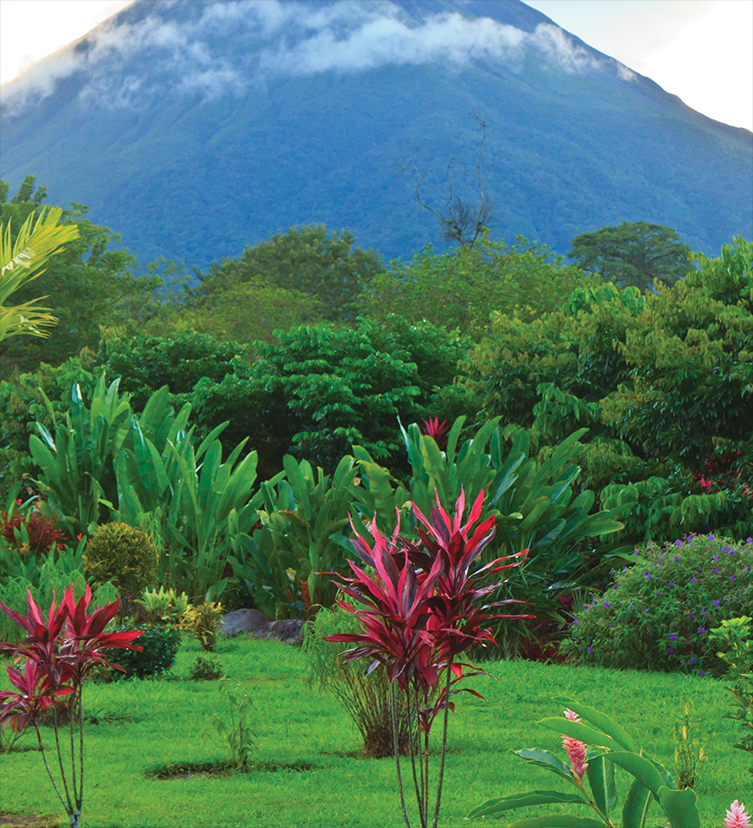 COSTA RICA
Costa Rica's motto, pura vida, is a way of life that has the country ranked as one of the happiest and the greenest countries in the world. Tucked between the countries of Nicaragua and Panama and the Caribbean and Pacific Oceans, Costa Rica is a land of incredible biodiversity with volcanoes, cloud forests and tropical wildlife, national parks — ideal for adventure-loving couples.
TIME ZONE:
Central Std. Time (GMT-6)
KNOWN FOR:
Rainforests, Adventure and Biodiverse Wildlife
POPULAR LOCATIONS:
Arenal, Cahuita, Corcovado, Gulf of Papagayo, Playa Copal, Puerto Viejo, Tortuguero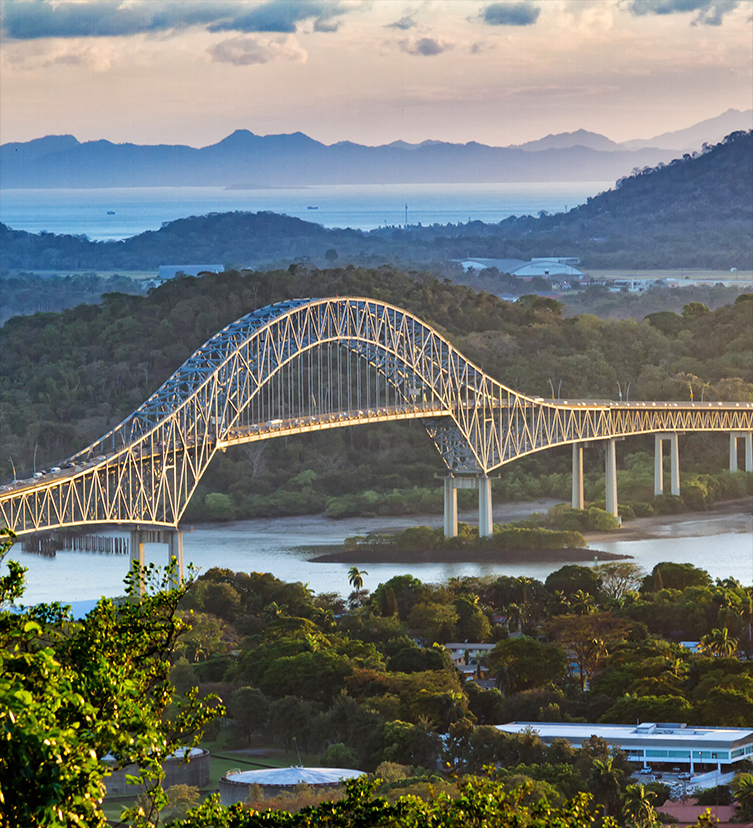 PANAMA
Best known for its landmark canal, Panama wows with Instagram-worthy backdrops for your celebration, including lush rainforests, mountain cloud forests and 3,500 miles of Pacific and Caribbean coastline. There are more than 1,500 islands off the Panama coast, making it a cocktail of ecological wonders, rich history, fine dining, culture and nightlife. Create an experience for your guests that is utterly unique.
TIME ZONE:
Eastern Standard Time (GMT-5)
KNOWN FOR:
Panama Canal, Natural Beauty and Vibrant Culture
POPULAR LOCATIONS:
Bocas del Toro Islands, Casco Viejo, El Valle de Anton, Panama City, Playa Bonita, Santa Catalina
Other Popular All Inclusive Wedding Locations
FALL IN love WITH OUR recommended locations! There are so many to list! Other popular locations can include: Turks and Caicos, The Bahamas, Grenada, Barbados, Antigua, Saint Lucia and so much more!
Know your destination? Explore the ideal resort brand for your romantic milestone! Finding a resort that matches your unique style as a couple will make the occasion even more special.
FREE WEDDINGS AT SELECT LOCATIONS!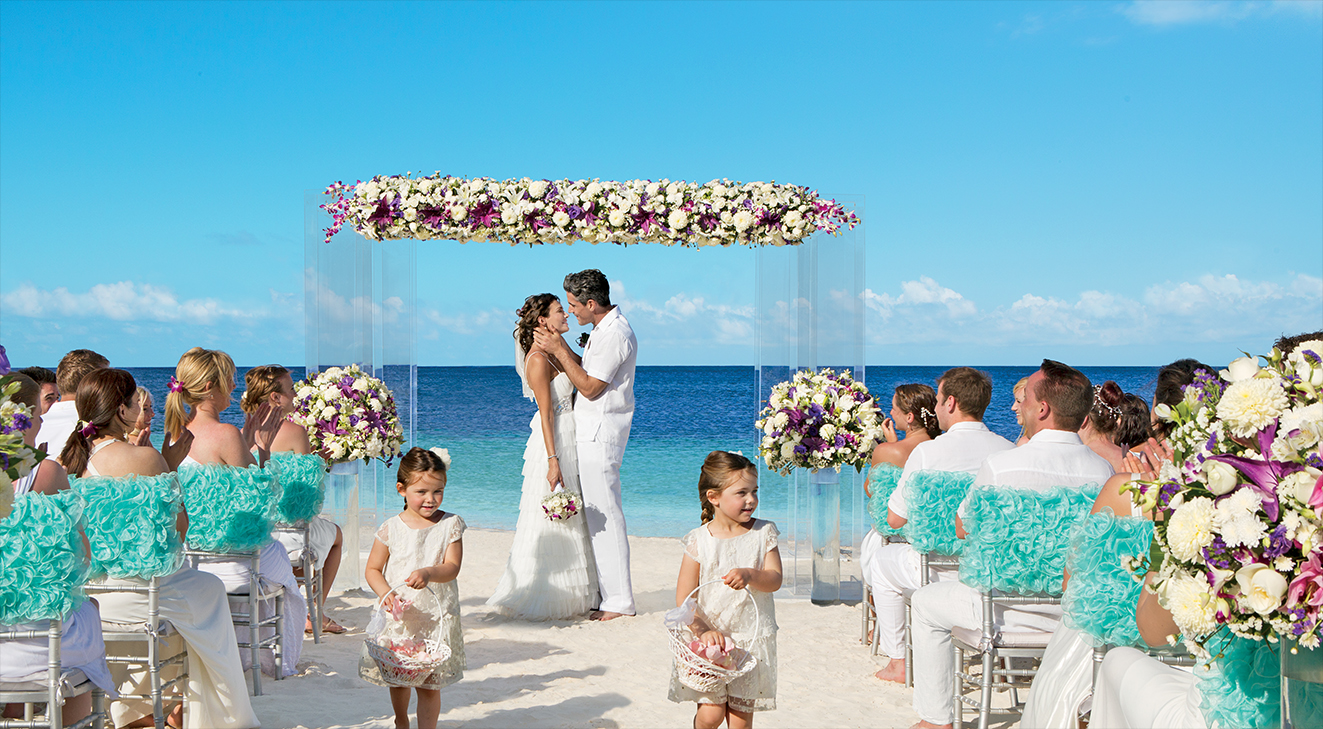 We can help you find the perfect location for your destination wedding! How do you know if a place is right for your special day? Answering the following questions can help. How many rooms does the hotel have, and how many are available for the days you want? What types of guest rooms are available? What facilities does the hotel or resort have for a wedding? Does the hotel or resort have a standard wedding package? Can it be customized? Do you have an on-site coordinator?
Please contact us today at All Inclusive Weddings to learn more about our locations and services!