It's a lot like heaven.
We can help you navigate the different wedding packages with ranges of price points and offerings.
From an intimate two-person experience, which can includes a ceremony, flowers, a private dinner for two under the stars, a massage, morning-after breakfast in bed and more. To 50+ person wedding, without losing any of the romantic details. Perks like a private cocktail hour, a three-course meal, live music and a rehearsal dinner – this can all be added and included.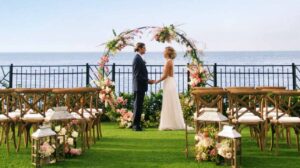 Each couple has unique needs, which is why we create custom wedding packages made with a range of price points and offerings. From a simple couple's elopement get-away package, to a large 200+ guest wedding, we do it all!
Just think what's possible – Fireworks, massages, and breakfast in bed, destination weddings put the 'bliss' in 'wedded bliss.'
If planning your wedding sight unseen sounds nerve-wracking, many resort brands offer special rates for couples to visit, meet with wedding experts and decide on different day-of features, like wedding site and menu options. Not ready to commit? When you visit and book your wedding, several resort brands will provide you with a certificate for a two-night stay to use during the wedding or honeymoon.
Because resorts want to help you keep the celebration going well into the future, several resorts also offer a complimentary two-night stay for your first wedding anniversary, making it easy to relive every detail from your magical day.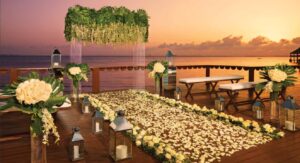 From beachfront altars to multi-course menus to finale fireworks, all inclusive destination wedding resorts offer a sensory experience that brings wedding dreams to life. Couples can exchange vows at a range of sites, including the beach, pools, terraces, ballrooms, or even at select resorts – in the Presidential Suite – a luxe location for elopements and micro-weddings.
Access to onsite dedicated wedding experts, including wedding planners and coordinators is included. Some resorts offer the bonus of added exclusivity, as they only host one wedding per day.
We want to provide a picture-perfect backdrop for your vows. But it's not just the scenery that creates the wedding of your dreams. Your resort's dedicated team of wedding experts ensures that your vision becomes a reality, from sprawling plans to tiny details and everything in between of 200+ guests without losing any of the romantic details.
With many resort brands, couples who book multiple-night stays can earn a complimentary destination wedding that takes care of many items on the to-do list – including an officiant, flowers, turndown service and a wedding cake and sparkling wine toast for up to 10 guests.
A Family Affair: "The best part of a destination wedding is the added time with everyone. The hotel put on both a meet-and-greet and a poker party in the nights before the wedding. It was a wedding week versus a wedding day, which made for endless memories — and lots of beach volleyball. By the time our wedding night came around, everyone was family."
Destination On-Site: "Weddings on-site at the resort are such a COMPLETE destination offering, where you can enjoy activities, haute cuisine and the best beaches in the world with your partner. You don't have to do anything but savor the sun and ocean breeze."