FARAWAY ROMANCE
Wedding photos on white-sand beaches with sparkling blue waters are just one benefit of a destination wedding.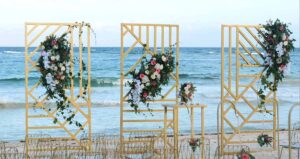 1) THE GUEST LIST
Asking your best friend to travel to your destination wedding is easy. Asking your parents' work colleagues? Not as much. Hosting a ceremony away from home is a natural way to trim the guest list, ensuring you're surrounded by only your nearest and 1 dearest that day.
2) THE DÉCOR
Nothing can compete with sweeping ocean views, bright skies, blue pools and vibrant tropical plants. When it comes to décor, our selected resorts incorporate elements from their surroundings, so everything from flowers to food is inspired by the lush locales.
3) THE EASE
Our selected resorts have the services of on-site wedding planners and coordinators included in the cost of the event. So rather than juggling multiple sites and vendors, communication is streamlined between you and a small team.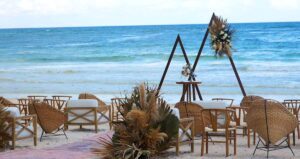 4) THE VACATION
Between time, money and schedules, it can feel impossible to get away. But a destination wedding means you're giving guests that badly needed vacation. Plus, with the details already worked out for them, it's less involved than planning their own voyage.
5) THE COST
The average US wedding rings in around $28,000. But thanks to a variety of wedding packages, you can host a destination wedding at a fraction of the cost. (Pro tip: some resorts even offer FREE weddings.)
6) THE QUALITY TIME
During a one-night event, couples are lucky to get two minutes with their loved ones. But when guests stay at the same resort, a wedding can include a roster of events — think a welcome cocktail party, excursions, a post-wedding brunch — where the couple can spend time with friends and family.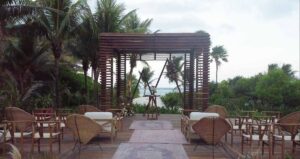 7) THE DRESS CODE
Beach venues allow for more laid-back attire, from loose maxi dresses and sandals to short-sleeve shirts and flip-flops.
8) THE HONEYMOON
Forget the post-wedding travel scramble — you're already there! Plus, many resorts offer upgrades and perks to couples who stay for their honeymoon.
9) THE MEMORIES
For many couples, the wedding day is a blur. But with fewer demands, more time with loved ones and a small to-do list, it's easier to savor the experience, creating memories that last a lifetime.