If you are considering a destination wedding, you will find you can choose to go in many, many different directions – both literally and figuratively.
Do you want to take a less-than-traditional route with your wedding? Did you know, in 2023, 1 out of 5 brides plan for something more unique with their wedding venue. Instead of a traditional or a backyard wedding, there are so many opportunities when it comes to a destination wedding – including the location, venue, floral decorations, and so much more.
If the thought of having your wedding ceremony two blocks away bores you, you might be a perfect fit for a destination wedding! As specialized wedding travel agents, we help you plan the perfect wedding miles away — all while sticking to your requirements for budget, size and more.
Quick tip: In the end, you need to plan the wedding that will make you the happiest, not a wedding that fits someone else's idea of perfection. If you can meet that simple goal, your day will be perfect, no matter where you are!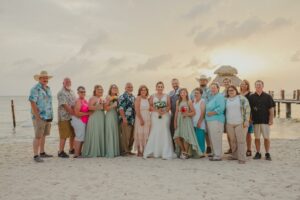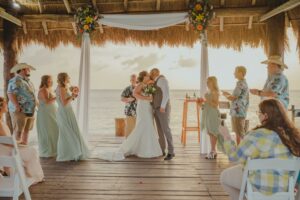 Our focus is that you view your week away as a vacation, but don't overlook the fact that you're getting married! It's not just another getaway, after all. Take some time to connect with your fiance and appreciate the magnitude of the event after you've unpacked your bags.
Quick tip: DO plan on spending time with all of your guests. That's why you invited them to this weeklong wedding party, after all.
Wondering how you'll ever find the time for all the little details that go into planning your wedding logistics like location, accommodations and itinerary?
That's why we're here!
We are award winning premier honeymoon & destination wedding planners located in the U.S. All Inclusive Weddings has been handling all the ins and outs of destination weddings since 2002. We want to give you the attention and experience you deserve.
Quick tip: DO send out save-the-date cards early before the wedding, especially if it's planned around a holiday weekend. Give everyone time to make their travel arrangements.
WE CONVERT YOUR DREAMS TO REALITY
UNIQUE TO YOU – The benefit of a destination wedding, your event can be unlike any you've attended before. And likely, it will be a fraction of the cost.
Your destination wedding may be on the beach with your toes in the sand, on the lawn under a decorated gazebo, at the foot of a waterfall, or the top of a mountain. The possibilities are endless!
Quick tip: If you drink, don't overdo it and have too much the night before the wedding. Sure, all you have to do is put on your dress and walk down to the beach in the morning, but you don't want to look green, tired, or puffy-eyed in your wedding pictures!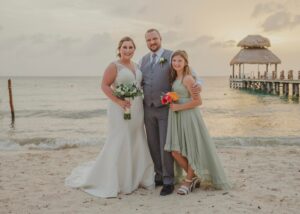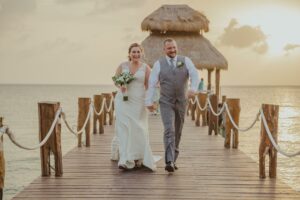 When dealing with the question, where to have your wedding, where do you start?
That's where we shine.
We have so much experience in handling professional wedding planning and travel with all-inclusive resorts.
We meet with the resort management and on-site wedding planners to tour the honeymoon suites, experience the romantic amenities, visit the salon and spa, view the wedding sites, and participate in local activities and excursions. Start by making an appointment to consult with our experienced team of Destination Wedding Travel Planners at All Inclusive Weddings to paint a picture of exactly how you envision your wedding.
Quick tip: Don't plan on paying for all of your guests' expenses unless your last name
happens to be Moneybags.
What goes into choosing the perfect venue?
Your experienced wedding travel planner will share unbiased experience to help you sort through the options and make informed decisions. Since 2002, we have planned countless weddings and look forward to helping YOU! With our experience, we make itinerary & wedding reservations tailored for you and your guests. We also negotiate with airlines, hotels, transportation companies and cruise lines on your behalf. We recommend the rooms with the best views. Help you get you the best value for your journey with exclusive packages and VIP services. We help you navigate travel insurance and more.
Quick tip: Do you draw up the guest list first, or do you find a location first? This is a chicken-or-the-egg issue. It really comes down to which is more important to you: Getting married in a particular spot or having lots and lots of people at your wedding. Once you determine which of these issues takes top ranking, the other one will fall into place.
As the experts, we can help you with the following questions and so much more!
When would you choose your wedding package?
When should you have your wedding location picked out?
What is the total deposit amount that we must put down to reserve the wedding?
When is the wedding deposit due?
Is the wedding deposit refundable?
How early must we arrive at the resort?
How many witnesses are required?
When is the final guest attendance count due?
What type of documents are necessary for a symbolic ceremony?
When are the documents due to the resort?
When is the balance of our travel?
Can we make payments toward the wedding or pay off our wedding balance early?
At All Inclusive Weddings, we bring your dream destination wedding to life! We have been handling all the ins-and-outs of destination weddings for couples since 2002! Our owner, Lia Vincent, having her own beach destination wedding, knows how unique and special this day is to you and your guests. Her and her team want to make sure your group travel is an extraordinary experience, and one to talk about for ages to come.