Ready to contact us and learn more about organizing your dream destination wedding? In 2022, destination weddings now account for just over 25% of the US wedding market.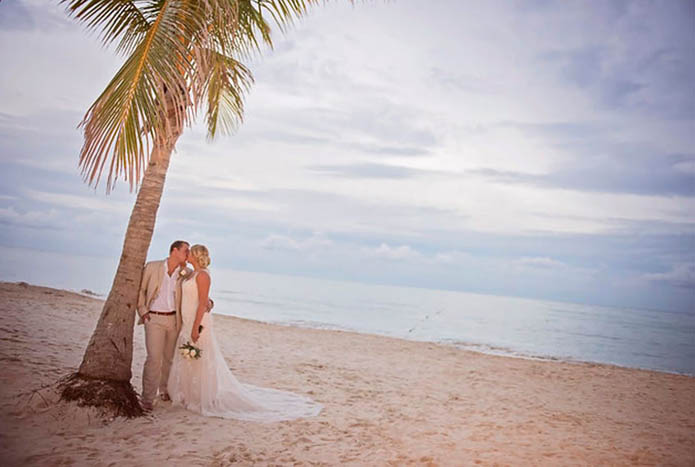 Weddings and vacations, they are both great generators of excitement. Mix the two together, and you can start planning for something truly special. Destination weddings are growing in popularity as couples choose to tie the knot in majestically unforgettable style.
Destination Wedding Statistics & Inspiration
On average, couples getting married abroad will stay at their destination for 7 days, with guests staying on average for 4 days. Some couples choose to change resorts for their honeymoon. This way, if needed, they have more privacy from the rest of their party after the wedding. Along with the resort, in the Caribbean and Bahamas, it's not uncommon for couples to change islands between their destination wedding and honeymoon. This gives them a completely fresh local, to experience both.
In 2022, the average cost of a destination wedding can be cheaper overall, compared to upwards of $30,000 average for domestic weddings.
May is the most popular month for a destination wedding, followed by June and July. This is important to remember in your budget planning, as May, June, and July can be the high season in your destination, which means it can be the most expensive time to book.
In 2022, destination weddings now account for just over 25% of the US wedding market.
Why people choose a destination wedding?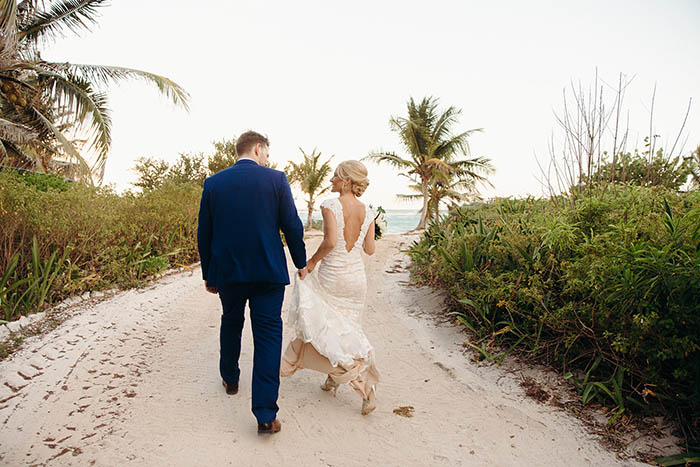 Destination weddings cost far less than those held domestically.
It is more likely to stand out, and be a unique experience and wedding that you and your guests will never forget.
It's often much easier, as people opting for destination weddings will almost always involve the services of a travel agent, who based on your needs, will have the best recommendation for destination, resort, time of year, and relationships with on-site wedding planners.
There is a hugely romantic and exciting feel to getting married in an exotic location. For your guests as well! The excursions alone, mean you're spending more time with your friends and family doing things you might not have access to at home. For example, zip-lining, sailing, horse back riding, rock climbing, spas / massages, cenotes, whale watching, the list goes on and on!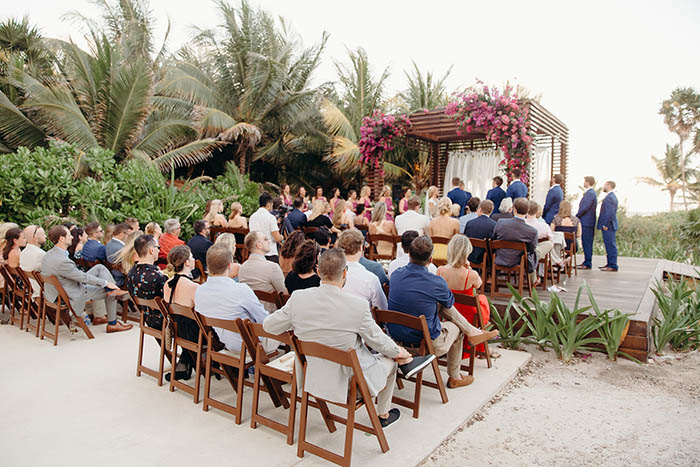 Instead of just 1 special day, the celebrations can be extended across several days. South Asian / Indian wedding celebrations are known to last from a week to 2 weeks!
The scenery of your destination will likely present the opportunity to get some beautiful media – video and photographs, for you and your guests.
It is much easier not to invite unwanted guests, who would expect or require an invite to a wedding held domestically.
Organizing a Destination Wedding
A destination wedding travel agency can help guide you through all of the following!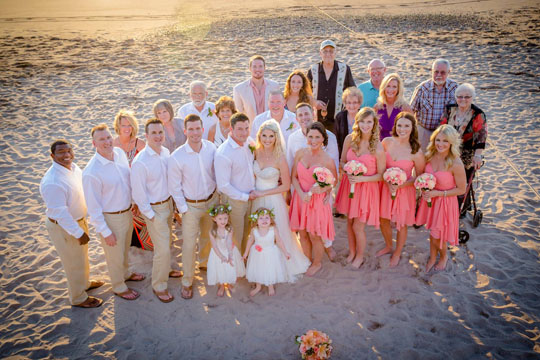 1) As a couple, brainstorm and come up with a wide-ranging list of possible wedding locations.
2) Whittle this down to a shortlist by going into further detail about the finer pros & cons of each location you've selected.
3) Make a final choice on your destination, and enlist the help of a wedding travel agency to book that location.
4) Decide who will be invited to the wedding. Once you have final numbers, organize the travel arrangements.
5) Select a theme for the wedding, whether it's an overriding color scheme or a theme based on something such as a famous TV show or film.
6) Get yourselves and the wedding party sized up for everything that you will wear on the day of the wedding.
7) Complete any admin tasks related to the wedding, this can be taken care of by a travel agent wedding planner if you're unsure about some of the finer legal points.
8) Organize the food. Selecting the cuisine that's indigenous to the country of your wedding adds to the destination wedding vibe, or at least have a few similar options.
9) Organize the finishing touches, such as music, cake, make-up and photography.
10) Enjoy every minute of your perfect destination wedding, starting from when you get to the airport!
Tips for Organizing Destination Weddings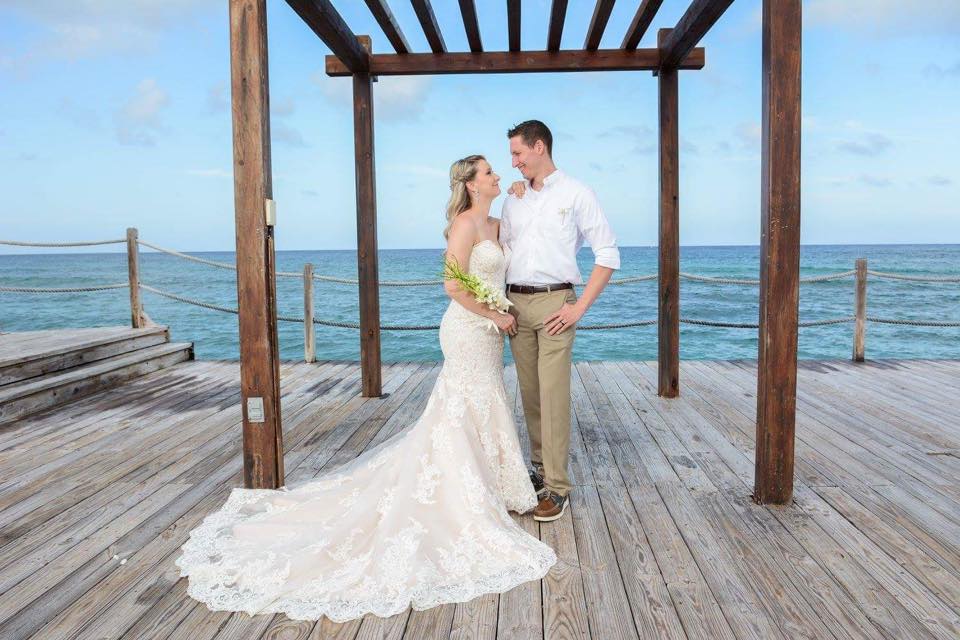 Have an on-site wedding planner. We organize someone for you! They typically are an employee of the resort and have 100s, if not 1000s of destination weddings under their belt. There are some specifics which they can do with ease, but would likely cause you enormous hassle if you took them on yourself. However, only enlist their help for jobs that very much require their expertise.
Find out about the legalities of getting married in the destination of your choice.
Carefully consider what travel plans (flights, connecting transfers, etc.) would be most convenient for you and your guests.
Consider taking out wedding insurance to protect against unforeseen obstacles, natural disasters affecting your destination.
Confirm the dates, and notify your guests as early as you can. They will need to plan for taking time off work, as well as saving up for the wedding. 9 months is a good ball park.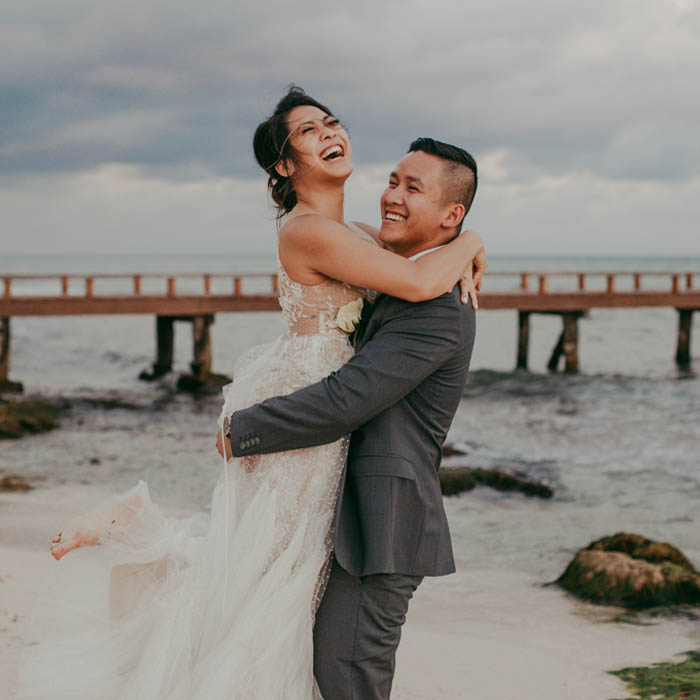 Visit your proposed destination to get a first-hand opinion of whether or not it is suitable for your wedding vision.
Ensure that you have arranged any essential documents, valid passports, visas, birth certificates, affidavits / statutory declarations.
Ready to take the next step?
We have been booking destination weddings since 2002. At All Inclusive Weddings, we offer free consultation! Please contact us today to learn more.