Casey and Mark didn't want a typical hometown wedding, their dream was to tie the knot in a tropical destination surrounded by their closest friends and families. More than eighty of their loved ones made the trip down to UNICO 20˚87˚ Hotel Riviera Maya for a week full of endless celebrations and memories that will last a lifetime.
Casey and Mark shared their favorite moments from their special week with us, keep reading for details from the beautiful couple.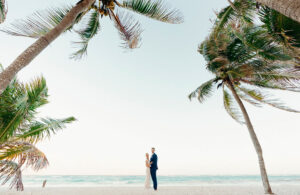 Why did you choose a destination wedding?
We are both from the same hometown and have been to countless weddings there. We felt like we had seen all the venues multiple times and wanted to do something different.  We also don't get to see our friends very often and wanted to make our wedding a vacation opportunity for friends so that we could spend multiple days with them. UNICO 20˚87˚'s all-inclusive experience and special price when staying 5 nights made this possible! Most of our friends and family stayed 5 nights, so we were able to have an extended celebration with our loved ones!
It was surreal being surrounded by our friends and family in such a picturesque venue. It was the most fun I've ever had at a wedding: the beach/pool in the morning, a beautiful ceremony, fun reception with amazing dj/LED dancefloor, fireworks to close the night, and then the club! It was the best day of our lives!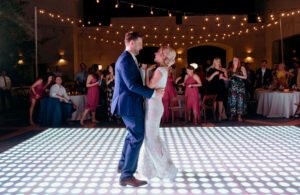 Which venue did you select for your special day?
We got married in the gazebo, and it was beautiful and dream-like!  We liked that the gazebo was somewhat excluded from the rest of the hotel, so it felt very private. Not to mention, the view of the beach and ocean in the background was breathtaking!  I also liked that it wasn't on the sand, so I could wear high heels with my wedding dress.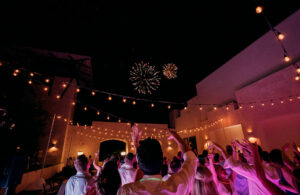 What was your favorite thing about your big day?
Everything was perfect! The gazebo was the perfect setting for the ceremony and looked gorgeous with the flowers on the arch. The reception was so fun! The DJ was incredible, and the fireworks during the last song made the evening feel like a perfect dream. It was the icing on the cake—the perfect send off! Also, Maribel was so attentive and had everything set up exactly as we had discussed. I didn't have to worry about a thing all day!
Our favorite memory was watching our friends and family having so much fun dancing and enjoying themselves in the tropical environment while celebrating our marriage!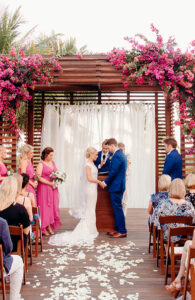 What was the best part about the planning process?
Lia setup an Onsite Wedding Coordinator for us, Maribel. Meeting with Maribel when we arrived at the resort was so helpful. She was so patient with us and spent so much time answering our questions and finalizing many details about all of our weekend events. She really put us at ease which allowed us to enjoy our weekend with friends and family without any worries. She went above and beyond our expectations by adding special details to our events that perfected the set up—things we hadn't even thought about!
Travel Agent: Lia Vincent – All Inclusive Weddings
Onsite Wedding Coordinator: Maribel Ramirez Fernandez
Which was your favorite amenity?
The day bed and the bath tub on the balcony were great for relaxing. One day we came home, and the room host had drawn a bath with rose petals and set out champagne. We thought that was very romantic and gave us a moment of peace away from all the wedding festivities. Having the room host to contact was very helpful. All of our requests and questions were taken care of quickly! The room service was amazing and being able to use the Unico app made it so easy!
Also, everyone was a big fan of the clothes steamer supplied in the room. It worked great for everyone's wedding attire and multiple people purchased it once they returned home!