See our latest 2023 guide to destination wedding packages. This includes free and upgraded packages to all-inclusive wedding locations around the world.
We hope this is your all-in-one guide to destination wedding packages and destination wedding costs! Please feel free to use our contact form and let us know any tips or suggestions.
#1 – Many all-inclusive destinations will offer you a free / complimentary destination wedding package, with a minimum of a 3-nights stay as a couple at the resort location. Often, included in this is a complimentary honeymoon package – As they want to extend your stay at the resort.
#2 – Where a cost is typically involved includes all the extra add-ins and options such as the following. Keep in mind, these costs do not include your round-trip flights, or other various costs to get to / from the resort, the resort stay itself, any extra events.

Resort / wedding passes for any guests not staying on property. This is a cost typically covered by the bride/groom, and not paid by each individual guest. Events scheduled by the bride or groom with the intent of the guest attending, these events are typically paid for by the bride/groom. There are different prices for adult passes vs. child passes. 1 adult pass can cost an average of $145. While 1 child pass might be $70. Also, if you are encouraging children to attend your event, you need to make sure the wedding is not hosted at an adults-only resort.
Dance floors. $300 to $3,000, all depending on size, features (LED light-up), and location.
1 Musician – 1 hour minimum. $300 to $900, depending on location and type (guitarist, saxophone, flutist, keyboard, violinist, etc.)
Band – string quartet, cover band, latin dance band, mento band, junkanoo band, etc. This can widely vary on type of band, location, and time playing, but expect anywhere from $500 to $6000 also based on the number of musicians.
DJ minimum 1 hour – $300 to $600.
Low end video packages – $795. Maximum of 2 to 3 hours coverage, including things like bride & groom getting ready, ceremony, Cocktail Reception & Cake Cutting, Bride & Groom First Dance.

Included Options in a Free Wedding
From resorts in Cancun all the way to Barbados, the free wedding can typically include the following options. Keep in mind, there is usually a 32 person maximum attendance, before a per guest cost is involved. And if any guests are not staying on property, they will need to pay the guest pass price as mentioned above. Also, with the free wedding option, some resorts will automatically assign you their most convenient on resort property wedding location for that date – which could be an indoor ballroom, the beach, a wedding gazebo, terrace, garden, chapel, or an ocean side venue, or any location of their choosing.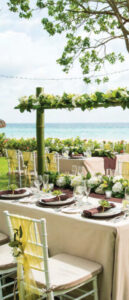 Free / Complimentary Wedding Package
White pergola arbor
White ceremony podium
32 White Avant Garde chairs
One bridal bouquet of white roses and one white rose boutonniere OR two bouquets OR two boutonnieres – Two bouquets or two boutonnieres option available for same sex weddings.
Themed 1-tier wedding cake for up to 32 persons
Nondenominational Minister to perform symbolic or vow renewal ceremonies
Sparkling wine for 32 persons during the ceremony
Honeymoon Wishes Wedding Website and Bridal Registry
Audio system available for ceremony
Event Consultant and Onsite Wedding Coordinator
Witnesses if required
Complimentary Honeymoon Package
At select resorts – If you want to pick your wedding location at the resort, whether on the beach, in a picturesque gazebo setting, or otherwise, this is where you're going to start encountering costs. Costs involved above and beyond the free options are found here.

Wedding Packages Above the Free / Complimentary Level – Ceremony Options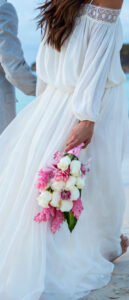 Upgraded chairs – ex: 32 acrylic napoleon chairs, triangular wooden arch with mixed greenery / tropical structure with greenery, roses and pampas, Wooden column and gold pedestal with mixed roses and greenery, decorative vases, aisle runners, themed bridal bouquet, Themed 2-tier wedding cake for up to 32 persons, Soloist for wedding ceremony (Violin, Saxophone, Guitar), Honeymoon Wishes Website and Bridal Registry, 6 aisle vases adorned with anthuriums, roses and oriental lilies over top mirrored, white and clear base, ground fireworks display after ceremony, and possible other options offered in the wedding package + add-ons.
These additions are offered as a package and based on requirements, the packages can range from $2,500 to $5,000.
Reception Costs
The reception can cost $500 per table, where 8 guests / table. This can include Centerpiece with seasonal flowers and, variety of greenery, gold votives with candles, white napkins, charger plates, glassware, flatware, table runners, and the like.

The above covers typical all-inclusive pricing for destination weddings in the following countries / locations.
Jamaica
Nassau, Bahamas
Exuma, Bahamas
Saint Lucia
Antigua
Grenada
Barbados
Turks & Caicos
Punta Cana, Dominican Republic
Vallarta, Mexico
Cancun, Mexico
Riviera Maya, Mexico
Los Cabos, Mexico
Venue / location package costs
Some all inclusive resort locations charge extra based on venue. For example, Sandals and Beaches Resorts typically have extra costs based on venue / location. This can include the following.
Over-the-water serenity wedding chapel – $750
Over-the-water weddng gazebo – $500
On location wedding chapel – $300
Semi-private Sky Terrace – $750
Bridal and Groom Spa Service Packages and Pricing
There are additional charges for bridal spa services like the following. Facials, wraps, glow treatments, nail services, hairstyling sessions, make-up sessions, spa attendant, massages etc.
There are additional charges for groom spa services like the following. Deep relief massage, facials, wraps, glow treatments, nail services, etc.
The pricing for the above spa services can range from $100 to $450 / person.
Photo and video packages pricing
Digital image packages that include 30 to more hi-resolution images ranges from $695 to $2500.
Photo and video combo packages can include 75 to 100 images and 20 to to 30 prints and 1 classic video, and a 8×8 standard photo book – package pricing can range from $2000 to $2500.
Larger package pricing can include a minimum of 300 digital photos from the event, one photographer for 5 hours, a second photographer for 2 hours of the event, 200 images for printed album, curved print on glass, 1 signature video – $3500 to $4500.
Live streaming video packages
These can include a full 3 hour video including wedding and reception, 1 hour and 30 minutes including ceremony and cocktail, 1 hour of ceremony, add-ons for 30 day turn around, and more. This price ranges from $300 to $2500.
Video packages
2 to 3 hours of coverage to 4 to 5 hours. Standard inclusions – bride & groom getting ready, cocktail reception, cake cutting, bride & groom first dance. Add-ons can include drone coverage, reception entertainment coverage, wedding dinner and speeches, spa coverage, blu-ray disc, video trailers for social media including 30 to 45 seconds of coverage, interview of family and friends, add-on honeymoon coverage including candlelight dinner, excursion coverage similar to catamaran or other sailing, land sports, etc. Pricing ranges from $795 for most basic package to $2500, not including add-ons. Individual add-ons can range from $100 (DVD copy) to $600 (including video of the honeymoon experience).
Please contact All Inclusive Weddings for more information!
---
Cozumel, Mexico
Elope in Luxury Package – FEATURES & COSTS
• Service of a dedicated on-site wedding coordinator
• Sparkling wine and fresh fruit in room or suite upon arrival
• Hairstyling and makeup application for one member of the wedding couple for day of ceremony
• Bouquet(s) and/or boutonniere(s) for the wedding couple
• Preparation and ironing of couple's wedding day attire
• Symbolic ceremony*
• 20 digital photos of the wedding ceremony
• Wedding cake and sparkling wine toast for two
• Romantic dining arrangements for two the night of the ceremony
• Special turndown service the night of the wedding
• 15% off spa treatments (spa boutique purchases not included)
• Complimentary hydrotherapy circuit treatment for the wedding couple
• Breakfast in bed with mimosas (reservation with concierge required)
• Late check-out for the couple (based on availability and upon request)
• Free anniversary nights (return over your first anniversary date and receive two complimentary nights with five plus paid nights or one complimentary night with four paid nights)
Estimated Cost: $1,500
Wedding in Paradise – FEATURES & COSTS
• Symbolic ceremony*
• Wedding organization and personal touch of on-site wedding coordinator
• Preparation and ironing of couple's wedding day attire
• Complimentary room for one member of the wedding couple the night before the wedding (based on availability and upon request)
• Bouquet(s) and/or boutonniere(s) for wedding couple
• Wedding cake and sparkling wine toast (for up to ten guests)
• Special turndown service the night of the wedding
• 15% off spa treatments (spa boutique purchases not included)
• Newlywed Package
• Welcome letter
• Fresh fruit
• Bottle of sparkling wine
• Breakfast in bed with mimosas (reservations must be made in advance with concierge)
• Late checkout for the couple (based on availability and upon request)
• Free anniversary nights (stay a minimum of five paid nights over first anniversary date and receive two additional nights free, or stay four paid nights over first anniversary date and receive one additional night free)
Estimated Cost: $1,200
---
Huatulco, Mexico Destination Wedding Packages & Costs
Complimentary Destination Wedding – Free
see more details ↓
Dreams of Love Wedding Package – $3,399 USD
see more details ↓