Disclaimer: This story was originally posted to the deseret.com archives, which is no longer in operation.
FILED UNDER: BUSINESS
Flying high despite industry's travails
Christopherson targeting business travel
By 

Deseret News

 
Max Knudson executive business editor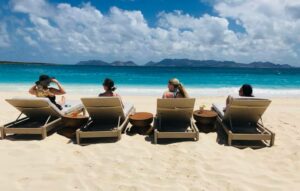 There was a time not so long ago when being a travel agent was a job only slightly less glamorous and sought after than ski instructor, airline pilot or guitarist in a rock 'n' roll band.Much of the travel agent hype was myth, of course. The job has always meant long hours on the phone sitting in front of computer screens trying to get Joe Executive to Tampa in time for his industry convention or Mr. and Mrs. Retired around the world in 21 days without losing them in Hong Kong.
Ah, but there were the comped "fam" trips — shorthand for "familiarization" — the travel industry's equivalent of political junkets. After all, you can't expect a travel agent to sell a customer on the delights of a trip to Paris or Bermuda without having sampled them firsthand.
Or can you? Is travel agent still a glam job?
In a word, no, says Michael Cameron, president of Christopherson Travel Group.
"The glamour of the free fam trips and the easy lifestyle has gone away," Cameron said. "Everyone is working harder for lower commissions now than ever before, which has put a burden on me to provide my employees a meaningful career path."
That's because travel agent wasn't always a "serious" profession. Like real estate, there were a lot of people who dabbled in it, for second incomes and not very large ones, but the benefits of free travel tended to offset that. No longer.
"In today's environment, most travel agents are the primary breadwinners for their families," Cameron said.
But it's even more complicated than that. Travel agencies are being attacked on several fronts. Over the past five years, the nation's airlines have been slashing the commissions that agencies receive for ticket sales, and the Internet has become a source of cut-rate tickets for Web surfers, cutting travel agents out of the picture altogether.
Then there's the slowing economy and, more specifically, the bear stock market. When times are tough, one of the first places a business looks to cut costs is its travel budget — a company's third biggest expense after salaries and information technology. And the average family? They scrap their plans for Disney World and take the kids to Lagoon instead.
This sounds like a disaster scenario for travel agencies, but Christopherson Travel's sales are up 36 percent this year over last. The company is on track to do $80 million in sales this year, which would make it Christopherson's best ever and a 38 percent increase over last year.
Unlike many local businesses that are tightening their belts, Christopherson is constructing a new three-story, 42,000-square-foot headquarters at 5588 Green St. in Murray. They will move into the building by late summer and from it will oversee their 12 branch offices in Utah and Idaho. (The company's main office for the past 19 years has been at 4659 S. 2300 East, Holladay.)
Cameron credits his company's prosperity in the face of so many obstacles to several strategies.
The main one was the decision he made to focus primarily on business accounts. Only 5 percent of the company's income now stems from leisure travel, and most of that centers on arranging vacation trips for its business clients.
"Travel agencies can no longer be all things to all people as they once were," he said. "It seemed to be a good niche to focus on business travel, and it has paid off for us. Business travel has been where the money is, and we consider ourselves the premier business travel agency in this marketplace, growing at an annual rate of 30 percent a year — a rate at which the (sales) numbers get pretty big pretty fast."
Another strategy that has paid off for Christopherson has been to set up agency offices right at the sites of its best clients, which include Evans & Sutherland Computer Corp. in the University of Utah Research Park; CompHealth, a temporary job agency for physicians; and MarketStar Corp., an Ogden-based company that provides marketing research for high-technology businesses.
And finally, Christopherson has prospered by embracing, rather than fighting, the Internet with its ResAssist Web product that allows corporations to book travel on the Net with Christopherson providing a blended reservation and quality control service.
"They can save money booking online, not in the cost of the tickets, but we pass on the labor-saving costs in the form of reduced service fees."
Cameron also credits his company's growth to putting a strong focus on its employees, who have an average of 16 years of experience.
"We have had less than 5 percent annual job turnover in the past 11 years, and that's unheard of in this industry where people usually job-hop a lot," Cameron said. "We've put a lot of focus on taking care of the people who work for us, and it's a great competitive advantage."
The advantage stems, he said, from the personal relationships that develop between his agents and the people for whom they book travel. "They say, 'I want to talk to Joe. He's my guy.' "
Cameron said he sees part of his job as making sure that "Joe" doesn't leave for greener pastures, and one of the obvious ways to do that is to pay salaries that are higher than the industry standard. Not commissions, but a package of salary and benefits.
A little camaraderie doesn't hurt, either. They aren't really fam trips, but every March all Christopherson employees and their spouses are taken on an expenses-paid trip, usually to the West Coast. Last month they went to San Diego.
Christopherson Travel was founded in 1953 by Merrill and Lucille Christopherson as an offshoot of another business, Provo Flying Service, that they launched in 1940.
The Christophersons sold the business in 1981, and Cameron was hired by the new owner as chief financial officer and a part owner. On March 1, 1990, Cameron and his wife, Camille, bought the company outright and became the sole owners.
At that time, the firm had two employees and was doing less than $1 million in sales per year. Today it has 75 employees and, as noted above, expects sales this year to hit near $80 million.
---