Planning a trip to Europe in 2023? Center your dream vacation around these once-in-a-lifetime festivals! There is no better way to experience the culture of a country than celebrating its landmark events with the locals!
1. Carnival of Venice:  February 4, 2023 – February 21, 2023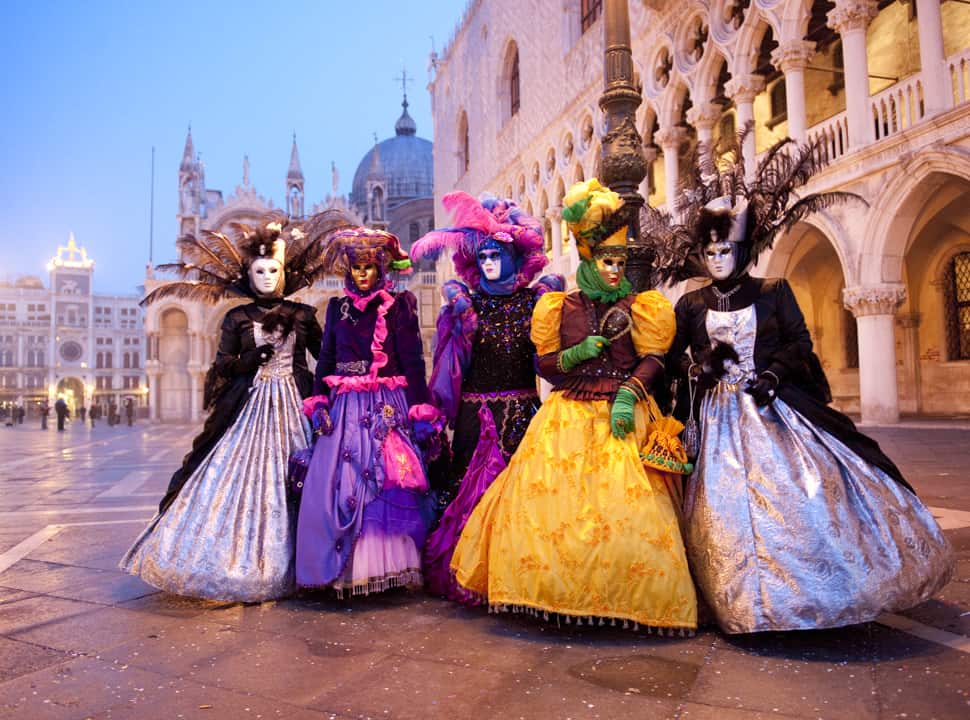 The Carnival of Venice, an annual festival held in Venice, Italy, is well-known for the elegant attire of its attendees. You'll see an array of elaborate Venetian masks and 18th century outfits in all sorts of colors, fabrics, and styles. The festival ends the day before Lent begins, making it an unforgettable Mardi Gras celebration. Legend has it that this festival began in the year 1162, after the Venetian Republic were victorious over the Patriarch of Aquileia. Upon news of this victory, people began dancing and celebrating in the San Marco Square, which is now the meeting ground for thousands of tourists and locals during the modern-day festival. More than a celebration, Carnival in Venice became a sort of political statement born from the Renaissance. Hidden behind their intricately crafted disguises, everyone became equal and at the same time, anonymous. While the nobility could hide their status and avoid scrutiny, the populace could blend in and and enjoy the feelings of grandeur.
If you decide to attend this once-in-a-lifetime party, don't miss out on these important events!
Opening night:  Enjoy this lavish spectacle of beautifully decorated boats parading through the Rio di Cannaregio – one of the main Venetian canals. Watch acrobats perform gravity-defying acts by the water's edge!
la maschera più bella: one of the most important events during Carnival – the contest for the most beautiful mask!
Silent Regatta: the last night of the Venetian Carnival is hauntingly beautiful. The electricity along the canal is turned off and the city is illuminated by thousands of candles. The boats on the canal are draped in black to symbolize the end of the festival and the beginning of Lent.
2. St. Patrick's Day: March 17, 2023
This festival needs no introduction – where better to celebrate this Irish holiday than Ireland?!
St. Patrick's day marks the death of Ireland's patron-saint, who is heralded for bringing Christianity to the Irish and banishing snakes from the island. Unlike in the United States, St. Patrick's Day is recognized as a national holiday in Ireland.  While in the U.S. this festival has been over-taken by beer companies and green dye, Irish locals have maintained a more family-friendly festival, with live music, delicious food and of course, a pint or two. For those seeking a wild St. Paddy's party, don't worry – there is still plenty of debauchery in the late hours. You may be surprised to find that there are far fewer tourists celebrating this holiday in the homeland than expected!
Want to join the party? Keep these major cities in mind for St. Patrick's day festivities:
Dublin: enjoy a five-day celebration marked by live entertainment, a huge street carnival and parades through the city-center.
Cork & Kerry: experience one of Ireland's biggest events, celebrating this holiday with marching bands, Irish dancers, local cuisine and street performers.
Downpatrick: visit the town where St. Patrick built his church and is now buried. The event is marked by family-friendly events and live entertainment that is sure to please all ages.
3. King's Day: April 27, 2023
King's Day, held in Amsterdam and throughout the Netherlands, is an orange-filled festival celebrating the birth of the Dutch King, Willem Alexander. Tourists and locals flock to Amsterdam to see the parade of boats along the canals and attendees clad in bright orange. Known as Amsterdam's biggest party, an average of more than 500,000 party-goers attend this once-in-a-lifetime festival. With a wide selection of live entertainment, DJs, and parties throughout Amsterdam, its best to book your tickets to events ahead of time!
Be sure to check out these events on King's Day!
Cartel: This party is set up close to the city center in Amsterdam, and is both an indoor and outdoor event! The daytime party lasts until 8:00 pm and continues on indoors until 7:00 am the following morning! 
Loveland van Oranje: This is an unforgettable outdoor party in Amsterdam's Meerpark. The music line up changes yearly, but this party is known for its beautiful grassy venue and chill vibes.  
Pllek:  This is an event that is appropriate for all ages, with an outdoor stage featuring live bands, DJs and delicious local food. There is plenty to do and see with entertainment for all ages! 
STAY TUNED: Must-See Festivals in Europe: May – July coming next…